Rhubarb & Strawberry Kombucha Fizz // Recipe ReDux May 2018
Jumping into spring
I have only fallen in love with rhubarb fairly recently. In fact, the love affair pretty much only started when I enjoyed a delicious bowl of oats at 26 Grains about 1 1/2 months ago that happened to be topped with a delicious rhubarb compote. I absolutely love the tart taste of rhubarb. It reminds me of the sour sweets that I was obsessed with as a child. Anyway, I decided that I had to incorporate some of the rhubarb that I received in one of my recent Abel & Cole deliveries into a probiotic spring mocktail for this month's Recipe ReDux feature.
Probiotic Cocktails and Gut-Health Mocktails
This month the recipe prompt was all about using things like kombucha, kefir, and other weird and wonderful ferments to create a delicious gut-healthy drink. Now I'll be honest, mine turned out to be a mocktail purely because good quality gin is expensive, and we really don't drink it enough to make it worthwhile having in the apartment (having said that, I'm sure that this would taste great with the addition of some gin for an extra kick). Needless to say, it's pretty delicious just as I've shared in this recipe. Kombucha has the most wonderful fizz, and the rhubarb, strawberries, and lime juice pair together really well and pack a whole lot of flavour. This drink is perfect for sitting outdoors in the sunshine whilst you soak up those rays!
Make sure to check out some of the other recipes that have been shred by on the Recipe ReDux page this month (I've already spotted one I'm going to have to try over on Cara Harbstreet's blog - I mean does it get better than Blueberry LavenderMojitos?).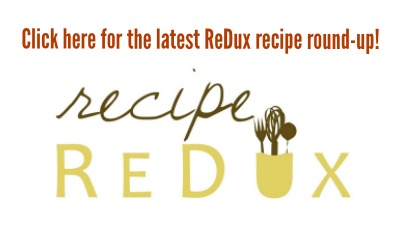 Rhubarb & Strawberry Simple Syrup
Ingredients:
3 big stalks of rhubarb
350g strawberries
1/4 cup sugar
Zest & juice of 1 lime
1/4 cup water
1 tsp vanilla paste

Instructions:

Wash and chop both the rhubarb (±3cm long pieces) and strawberries (quarter).
Place them in a small saucepan along with the sugar, lime zest and juice, and water.
Simmer over a low-medium heat with the lid on for 5 minutes, before removing the lid and simmering for a further 5-10 minutes. Stir every now and then to mix everything together. As the rhubarb and strawberries get softer, mash them a bit with your spoon/fork.
Remove from the heat and allow to cool for a bit before passing the mixture through a strainer.
Pour the warm syrup into a sterilised glass jar, and the fruit pulp into a separate jar. Allow to cool for a bit before storing in the fridge for up to 1 week.
NOTE: Use the simple syrup to make the cocktail recipe below, and use the strawberry and rhubarb pulp as a compote served with plain yoghurt, oatmeal, or with vanilla ice cream.
Rhubarb & Strawberry Kombucha Fizz
Rhubarb & Strawberries pair perfectly in this yummy, flavoursome springtime mocktail, made with the added bonus of kombucha for a happy gut.
Makes: 2 large mocktails
Ingredients:
1/2 cup rhubarb & strawberry simple syrup (recipe above)
250 ml plain/regular kombucha
1/2 cup chopped strawberries
Juice of 1 lime
1/2-1 cup crushed ice
Soda water, as needed

Instructions:

Divide crushed ice between two glasses/mason jars.
Pour over 1/4 cup rhubarb & strawberry syrup along with the juice of 1/2 lime into each of the glasses/mason jars.
Divide the chopped fresh strawberries, as well as the kombucha between the glasses/jars.
Mix everything together and enjoy!