Chewy Wholewheat Choc Chip Cookies // Recipe ReDux February 2018
Baking FAIL
I've never been an amazing baker, in fact I think that I've had more failed attempts at baking than successful ones. My poor family has had to smile and pretend to enjoy some of the terrible flops that have come out of the oven at times, and now that job belongs to my dear husband who, I must admit, is brutally honest when my baking attempts are just BAD haha. Unfortunately for me, this month's Recipe ReDux topic was all about baking bread:
You probably know where I'm going with this. I wanted to develop some yummy wholewheat bread rolls, and experimented with a total of FOUR recipes over the past couple of weeks. Unfortunately, none of them worked - some were as hard as rocks, others just gross, and the last batch was good but just not quite good enough to share with you (yet). As an alternative, I had every intention of trialling and photographing the perfect loaf of sourdough, but just didn't have the time to make one from scratch over the last week either.
Plan B
After baking attempt number four didn't work out quite as well as I had planned, I decided to give up and decided to make these choc-chip cookies instead. They don't fit the theme at all, but have been a favourite recipe of mine for the past couple of months. After all of my failed attempts I needed to make something that I knew wouldn't be a flop! I've been meaning to share the recipe with you for a while now, so I'm pretty excited that I've finally managed to take photos of them before they all disappeared (they really are that delicious haha).
Through this experience, I was able to recall some of my first attempts at cooking in general, and some of the failures that I managed to create in the kitchen which included burnt tuna fishcakes, crumbly flapjacks, and bland pasta dishes. Failing in the kitchen can be so disheartening, and takes away from the joy of cooking, but with practice, it really does get better! It has taken me years, with lots of practice, to feel confident enough in the kitchen to not have to follow recipes to a tee, substitute with ingredients that I have on hand, and even accept flops once in a while.
Seriously, if cooking is something that intimidates you why not start with even the most simple of dishes and learn from there. Just as an example, why not start with a bowl of pasta with sliced fresh cherry tomatoes, tinned chickpeas, and ready-made basil pesto. Once you've got that in the bag maybe you can try making your own basil pesto from scratch, or soak and cook dried chickpeas from start to finish. This is a simple example, but a great starting point and a great one at that - we don't all need to be the next Jamie Oliver ☺️ We just need to be able to accept a few failures, learn from them, and then move forward and try something new.
Remember to check out some of the other Recipe ReDux creations by clicking on the image below!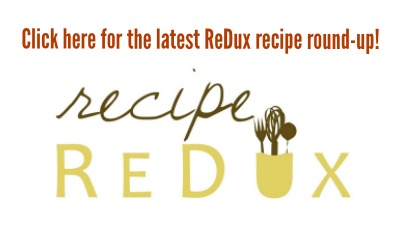 Chewy Wholewheat Choc-Chip Cookies
Makes: 8 cookies
Adapted from: Cookie + Kate
Prep time:
Cook time:
Ingredients:
1 cup wholewheat all-purpose flour (or substitute for spelt flour)
1 tsp baking powder
1/2 tsp fine sea salt
1/2 cup dark chocolate, chopped roughly
1/2 cup brown sugar
1/4 cup extra virgin olive oil
2 Tbsp water
Instructions:
In a medium bowl mix together the flour, baking powder, salt, and chocolate chips. In a larger bowl, combine the sugar, oil and water, whisking until the mixture is smooth.
Add the flour mixture to the sugar mixture and stir just until combined and no more flour is visible.
Line a baking tray with baking paper. Scoop the dough, dividing into about 8 cookies, onto the tray using a small ice-cream scoop or tablespoon, leaving several inches of space around each cookie. Freeze the cookies for 30 minutes before baking (alternatively chill them for up to 24 hours in the refrigerator).
Preheat the oven to 175˚C. Bake the cookies for 14-18 minutes, until the edges just start to turn golden. Allow the cookies to cook before eating.
Store in an airtight container for up to 1 week (If they last that long!).