Bright Beetroot & Red Cabbage Kraut // Recipe ReDux January 2018
My new favourite kitchen tool
This month's Recipe ReDux prompt got me thinking a bit about having things in our lives that we rely on a whole lot, that we almost can't live without. Having recently moved across the globe to live in London, I have had to leave a whole lot of my kitchen equipment back in South Africa and make do with really simple, everyday tools to prepare food with. I've probably missed my food processor and Nutribullet the most! Anyway, after thinking a bit I realised that a good chef's knife is DEFINITELY the one item that I wouldn't want to be in the kitchen without. Having a good quality chef's knife is a must-have. Seriously, there's nothing better than having a sharp knife on hand to shave a whole head of cabbage, slice through tomatoes, or finely chop fresh herbs :)
Let's get fermenting
I recently visited High Mood Food, an awesome grab-and-go spot here in London that strives to showcase all things fermented. Each dish is enriched in some way with gut-healthy fermented foods, from kefir to kombucha to kraut! I purchased a DIY kraut jar and guide before heading home, and decided to give making my own sauerkraut (with a twist) a try! I've talked about gut health on the blog many times before, but check out some of these posts if you want to learn a bit more about how probiotic foods can be great for you:
Make sure to see what other Recipe Redux contributors have been up to by clicking on the image below!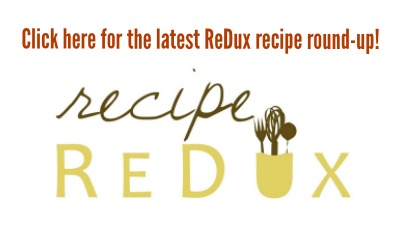 Bright Beetroot & Red Cabbage Sauerkraut
Makes: 1 large (1L) Kilner jar of kraut
Ingredients:
1 1/2 large red cabbages
2 medium beetroots
Sea salt
Carraway seeds
Instructions:
Before starting, wash your hands well. Make sure that your chopping board, knife, and other equipment are sterile.
Next, sterilise your jar. Heat your oven to 140˚C. Wash and rinse the jar, remove the rubber seal, and place the jar in the heated oven for 10 minutes. Remove the jar from the oven when complete and allow to cool.
Meanwhile, peel off the outer leaves of the cabbages and chop off the bases. Keep the bases for later. Use a sharp knife to halve the cabbage and chop it finely. Peel and grate the beetroot. Place the cabbage and beetroot in a large, clean mixing bowl (it's a good idea to weigh the veg at this point).
For every 1kg beetroot and cabbage, add 20g sea salt to the bowl (i.e. for 1.5kg beetroot and cabbage, add 30g salt). Add 1-2 tsp caraway seeds to the mix and start to scrunch and 'massage' everything together for 5-10 minutes, until the cabbage beetroot mixture is dripping in its own moisture.
Time to pack the jar. After allowing the jar to cool down completely, tightly pack the cabbage and beetroot mix into the jar. Press out any pockets of air. Fill the jar right up to the neck, and pour over any extra liquid so that the veggies are completely covered with liquid.
Wash and trim the base of one of the cabbages so that it fits within the neck of the jar to compress the cabbage when the jar is closed.
Leave your sauerkraut to ferment at room temperature, OUT OF DIRECT SUNLIGHT, for 7-14 days (depending on your preference). One important note is to 'burp' your jar each day (possibly even more than once a day) to release any built-up carbon dioxide. Do this in the sink so as not to spill purple liquid everywhere.
When your kraut is ready, remove the cabbage base and store in the fridge for up to 6 months.